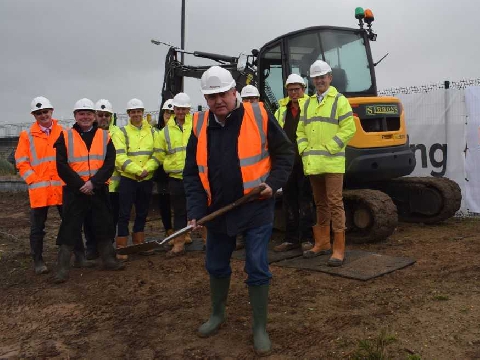 The first soil was broken today at the Jaywick Sands development.
Building work has begun on the electrical power station, and initial piling works on the ten properties being built as part of the Jaywick Sands development.
The houses will be situated just off Lotus Way, with the properties being offered to local residents as a priority.
Five of them will be council homes, while the other half will be up for sale.
The work is being carried out by Ipswich-based company Gipping Construction.
Tendring District Council Cabinet Member overseeing Jaywick Sands, said he was pleased to see spades being put in the ground.
He said: "This work has not been easy, with reptiles on the site delaying our start to this work, but we hope to see these homes completed and with people moving in towards the end of this year.
"We have stuck with this project because we know how important it is.
"When we speak with the Jaywick Sands community, time and again housing quality is one of the biggest issues they want to see addressed – and that is what we are doing.
"This work also shows our commitment to Jaywick Sands which has huge potential.
"This commitment not only demonstrates to local residents that we truly care about their community, but also signals to our partners and possible investors just how confident we are about the future of an area which sadly often gets a bad name despite being a fantastic place.
"We are looking to invest and really lead by example to bring significant and lasting change for everyone's benefit".
The houses are being described as a modular design.