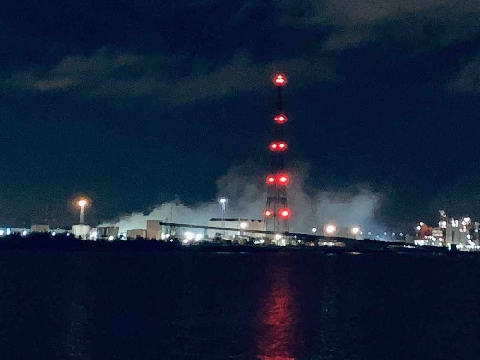 Photo by: ECFRS
Essex Fire and Rescue Service say that a chemical incident in West Thurrock no longer poses a threat to public health following extensive air quality tests in the area.
The local fire service issued an update at 4.30pm on Tuesday 7th January following extensive work with the Environment Agency.
The agency say the air quality in the vicinity of the incident on Stoneness Road has been tested extensively with all readings showing well within safe levels.
A spokesperson said: "We have undertaken off-site air quality monitoring in the vicinity of the site, but following liaison with Public Health England, there are no current plans to continue this.
"As this is a regulated site, we will be supporting an investigation with Health and Safety Executive into the causes of the incident."
A Public Health England spokesperson said: "Public Health England is content that the air quality monitoring today by the Environment Agency shows that the readings are normal, which means that the risk to public health is low."
Essex Fire added that road closures on Oliver Road and Stoneness Road will be removed, and Thurrock Council has confirmed that schools will reopen as normal on Wednesday 8th June.
The tests follow reports to the fire service on Monday 6th January of a cloud of fumes following a reaction involving an industrial cylinder.
A 100m exclusion zone and road closures were put in place, residents were urged to keep windows and doors shut, and schools in the local area remained closed on Tuesday.
Neil Fenwick, who's the Area Manager at Essex County Fire and Rescue Service, gave this explanation of what was going on Monday night: "We understand that the cloud includes an amount of hydrochloric acid.
"A 100 metre exclusion zone was created at the site earlier today as a precautionary measure.
"We now know that these fumes were caused by a tank that has failed, the leak is contained within the site.
"Firefighters are now safely managing the leak and this process is expected to continue for some time.
"Six crews took over the incident at 8.30pm from the crews who initially attended.
"Emergency services are working hard to make the site safe again as soon as possible.
"Thank you for your patience.
"Road closures around the site remain in place.
"If you live nearby, the advice is that you should stay inside and keep all windows and doors closed."
A further update was issued by Deputy Chief Fire Officer, Rick Hylton, at 1pm on Tuesday 7th January: "We remain at the scene of a chemical incident in West Thurrock.
"This has been a complicated incident and we're taking a multi-agency approach with Essex Police, East of England Ambulance Service, Public Health England, Thurrock Council and the Environment Agency to manage the incident.
"Thank you to all who have been involved.
"As a precautionary measure 15 firefighters were transported to local hospitals overnight and following assessment were released shortly afterwards.
"The hard work and dedication of our staff and team work across agencies has meant that as things currently stand we have the incident contained and a plan in place to successfully and safely resolve the incident.
"Our crews are continuing to work hard to support the industrial site management and the Environment Agency.
"Although we cannot say exactly when this incident will be resolved, we are looking at hours rather than days.
"Our priority is to ensure the safety of everyone on scene dealing with the incident, as well as everyone in the surrounding area.
"Please continue to follow Public Health England's advice of keeping doors and windows closed if you live nearby and turning your vehicle's air conditioning off.
"If you have existing respiratory problems, keep medication with you and if you feel unwell call 111."