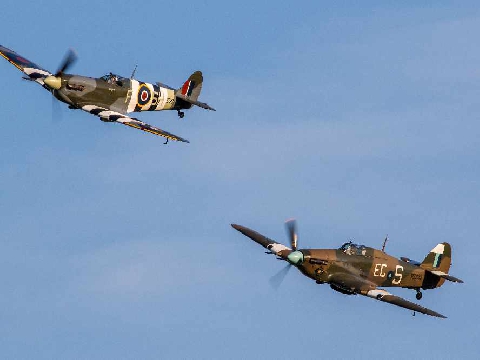 Battle of Britain Memorial Flight - picture credited to Paul Johnson
The organisers of August's Clacton Airshow have confirmed several RAF flights will be entertaining crowds again this year.
The Battle of Britain Memorial Flight will be returning on the 22nd and 23rd August - and you'll also be able to watch the famous RAF Typhoon and the Tucano.
Although the Red Arrows are away this year on their tour of North America, Councillor Alex Porter from Tendring District Council's told Dream 100 it'll still be a spectacular event:
"For more than 100 years now the RAF has existed to protect us from aerial attack, and support our armed forces on land and at sea, and I am glad the service will be well-represented at this year's Clacton Airshow," he said.
"Each RAF flight brings something different to the display – from the historic wonder of the Battle of Britain Memorial Flight, to the noise of the Typhoon and excitement of the aerobatic Tucano."
Previously announced flights for the Clacton Airshow include The Blades, Pitts Special biplanes and Wildcats, all aerobatic displays.