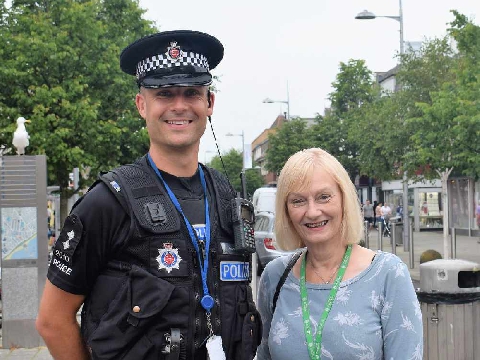 Inspector Darren Deex and Lynda McWilliams - picture credited to Essex Police
Police in Clacton are working with Tendring District Council on a major operation to tackle crime over the summer months.
An almost 1,000 hours of extra officers' time is being provided to bring back a scheme of patrols between now and the end of August.
Last year a similar operation saw 19 arrests and 26 people stop-searched, with a total of 560 hours of additional high visibility patrols carried out.
Crime figures for the period of the operation compared to the previous year saw robbery offences fall 40% and violence with injury crimes go down 6%, while shop theft fell by 20% and anti-social behaviour incidents reduced by 29%.
Inspector Darren Deex says he's hoping the project will be as successful as last year:
"This operation, paid for with significant funds, will we hope not only put the public at ease, but also allow them to support the police and the work they do for the community.
"As the population in Clacton increases over the summer due to tourism it is only natural the crime rate should rise, and this is about responding to that.
"I am confident we can keep people in Clacton safe over the summer, just as we do year-round."
Lynda McWilliams, TDC Cabinet Member responsible for community safety, said:
"Following on from the success of last year, I am pleased that this operation will be returning in 2019.
"With additional high visibility patrols, public confidence will increase and residents, businesses and visitors should feel safer."
A video's been produced to give residents more information on the project.