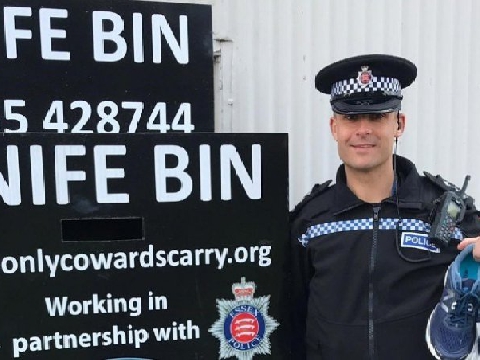 A police officer from Essex will be running the London marathon to teach young people in Tendring about the consequences of carrying a knife.
Darren Deex has been working in the police force for eighteen years, and says he wants to run for the 'Only Coward Carry' weapons awareness campaign after a rise in serious violence involving blades.
The initiative was set up in 2012 by Caroline Shearer in memory of her seventeen year old son Jay Whiston, who was fatally stabbed to death.
Caroline discovered that schools were educating children in road safety, internet safety and sex education from the age of seven, but nobody was providing any education on weapons awareness.
Darren is hoping to raise as much money as possible so that the charity can roll out their lessons into all year eight and nine classrooms in Tendring, with lessons teaching them how to stay away from a life of crime.
The marathon takes place on April 28th.
Image: Darren Deex