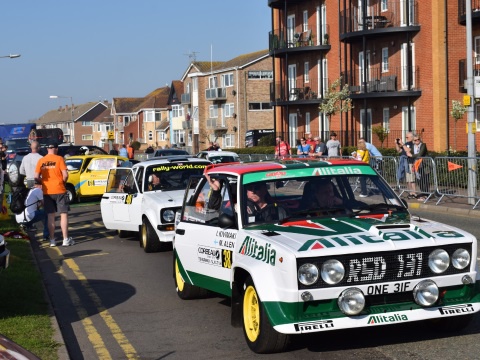 A ground-breaking rallying event will be returning to the streets of Tendring in April.
The Corbeau Seats Rally Tendring and Clacton was run for the first time last year - the first to take advantage of a change in the law to allow rallying on closed public roads.
Organisers Chelmsford Motor Club and Tendring District Council have revealed more details about this year's event, which is taking place on Sunday April 28th.
There's going to be a viewing area for spectators in Little Bromley - that'll be in addition to the ones that were open in Bradfield and Great Bentley, as well as a big screen on Clacton seafront.
The route has also been revised, with stages one and two from 2018 joined together in a single stage passing through Wix, and the Great Bentley stage being reversed in direction.
Chelmsford Motor Club say they're visiting homes along the route, as well as those that will be affected by road closures - a handbook is also being delivered.
Marine Parade West in Clacton will be closed from Friday, April 26, as part of the event service area.
Meanwhile a rally guide has been produced and highlighted to competitors and volunteers to provide information on local facilities, including hotels, guesthouses and restaurants, to competitors to encourage them to boost the Tendring economy during the weekend event.
Tony Clements, Event Director from CMC, said, "Last year was a spectacular rally, and a great marker as the first event of its kind in England after a change in the law,"
"We were so pleased with how well it went, and how popular it was, but as with any event there's always room for improvements.
"With some changes to the route for competitors, and even more ways for spectators to get involved, we're hoping for an even bigger and better rally this time around."
Mick Skeels, TDC Cabinet Member for Leisure and Tourism, said, "We were proud to host the first rally of its kind in Tendring last year, and I'm delighted it is returning for 2019,"