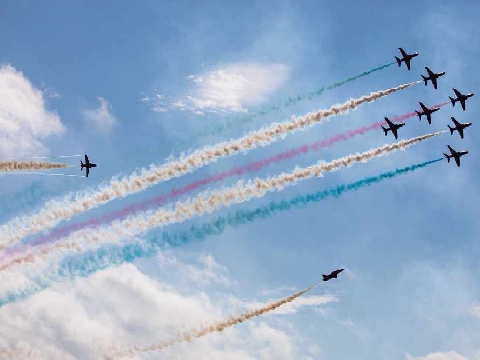 The Director of the Clacton Airshow says they're aiming to get the same number of visitors next year - despite the RAF Red Arrows not being there.
The display team will tour north america during august next year, meaning they'll miss the airshow.
Around two hundred and fifty thousand people came to this year's air show.
Event director Mike Carran from Tendring District Council says they'll work hard to make sure visitor numbers don't drop:
"It's up to us put on something spectacular and freshen up the display.
"You can take it as read that that's something we're aiming to do, we want it to be as amazing as it has been in past years."
We asked Mr Carran whether they'd consider moving the event earlier in the year so the Red Arrows could display.
He gave us this reply:
"In terms of looking at different times of the year, that's always an option for us.
"However, the airshow is so established in the calendar, so it would be difficult to move to an earlier date.
"People book their holidays in advance and make arrangements to be there so we don't to disrupt that."
On social media, the organisers of the airshow have published this post, saying they're aiming to still provide a spectacular event next year.
As you all may be aware, it is highly unlikely that we will see the @rafredarrows with us at next years Airshow due to their American summer tour. Although The Red Arrows are a fantastic draw, we are confident that our Airshow next year is still going to be spectacular! pic.twitter.com/R6EpI1Nf8K

— Clacton Airshow (@ClactonAirshow) October 23, 2018