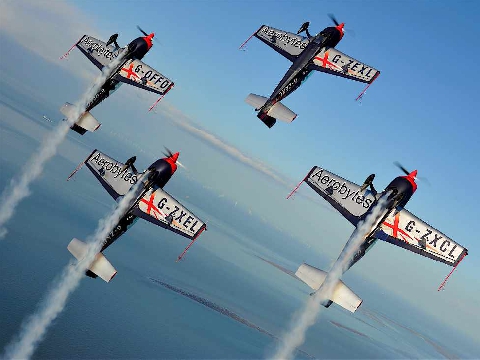 The Blades will perform at this year's Clacton Airshow
The aerobatics display team, The Blades, have been announced in the line-up for this year's Clacton Airshow.
The team consists of former Red Arrows pilots and Tendring District Council (TDC) says spectators will not be disappointed at the event on 22nd and 23rd August.
Former 'Red 10' Mike Ling, who spent a record 10 years with the Reds, joined The Blades this year and will be there for the event.
According to the flying ace, the smaller aircraft means they get to spend time with the watching crowds.
Ling said: "We can land on a grass runway at an airfield that is close to the display location which means we get to spend time on the ground. As a Red Arrows pilot I didn't get to do that."
"Ten years was enough [in the Red Arrows], I think I'd done my duty and it was time to move on.
"Now I'm in a team which is made up of all ex-Red Arrows pilots so its like a home from home and a really nice transition from the military into civilian life."
The precision flying close-formation display team performs more than 30 different manoeuvres during their flights, reaching jaw-dropping cross speeds of around 350mph.
A regular fixture of the airshow in recent years, the Red Arrows, will not be part of this year's event as they are performing in North America, but TDC says The Blades will certainly make up for their absence.
Alex Porter, TDC Cabinet Member for Leisure and Tourism, said: "We know there was some disappointment from Clacton Airshow fans when it was announced that the Red Arrows would be on their tour of North America over the time of this year's event.
"But we really think that to have secured The Blades for both days of the Airshow will more than make up for it."

The Blades reach speeds of 350mph in their displays
He continued: "There is a strong flight line-up at this year's Clacton Airshow which we will be revealing over the coming weeks, and whether you're regular visitors to the event or considering coming down for the first time, I highly recommend it."
The district council, which runs the event, have also announced that the Wildcats display team, who fly Pitts Special biplanes, will be performing for crowds on both days.
They'll also be joined by the Norwegian Air Force Historical Squadron T-33 Shooting Star, and the Slingsby T67 Firefly, who the council says are firm favourites at the Clacton Airshow.
Images: The Blades